1. HACCP,HALAL, QS
2. natural brewed
3. 3-MCPD EU standard(<0.02mg/kg)
Traditional Soy sauce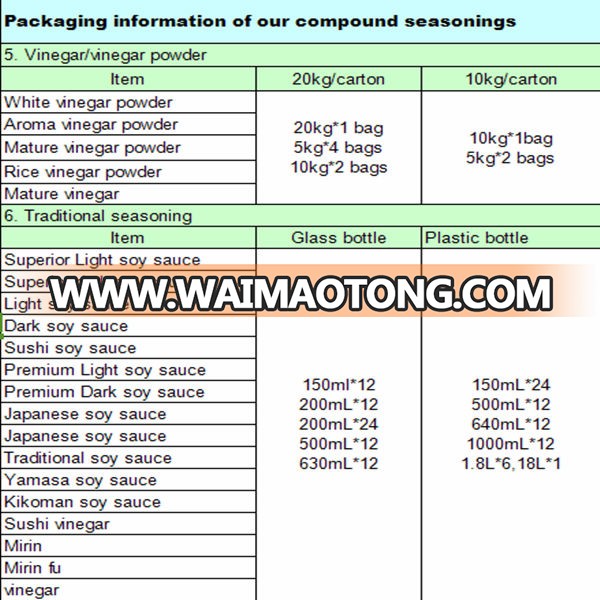 Basic Information
1.certificate: HACCP22000:2005, ISO9001-2008,QS,HALAL
2.Packaging:500mL, 1.8L, 18L, 200L
3.Delivery time:30-45 days after prepayment 30% TT
4.Shelf life:12 months
5.Brands: Salion or the buyers'
Product features
1. It is made of natural fermented soy sauce
2. It is reddishbrown color and unique saucy flavor ,was produced by natural fermented, the TN is from 0.4-1.5 and has the best taste.
3. we have light soy sauce and dark soy sauce.
4. It can be used for family consumption, used in factory and other industries.
5. 3-MCPD is EU standard.
Company introduction
We Beijing Salion Foods Co.,Ltd are a manufacturing enterprise located in Beijing China.
The corporation is one of the large-scale professional production facility in China. It produces liquid and powder of hydrolyzed vegetable rotein ,soy sauce ,soy sauce powder,vegetable powder(including onion powder,garlic powder, tomato powder and so on ),and multiple seasonings.Suck as chicken/meat barbaque ,chicken/beef/meat paste,instant noodle/sauce,and etc.
Product photos